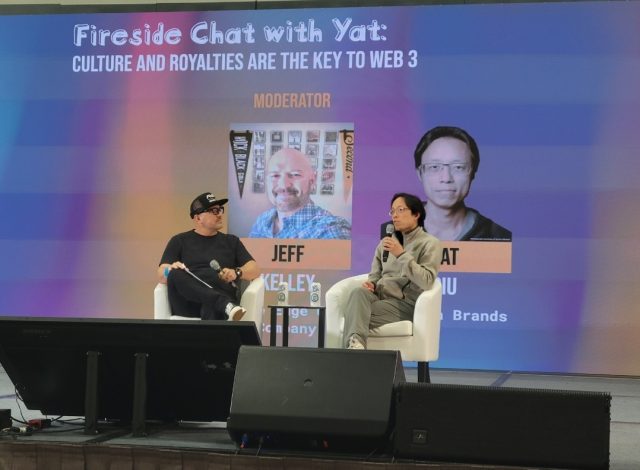 SPYYD® www.spyyd.com by ROKVU® www.rokvu.com
During the opening day of Outer Edge (formerly NFT LA), Yat Siu, the Co-founder and Chairman of Animoca Brands took center stage to discuss NFT Royalties and the need to focus on the nascent NFT culture instead of the Wall Street style nature of trading NFTs like stocks.  For those familiar with Yat's recent interviews by Open Metaverse Podcast and CoinDesk TV's "First Mover," his position was no surprise.  During Outer Edge, Yat reiterated that NFT royalties which are paid to content creators on secondary sales of NFTs is what helped drive the growth and expansion of Yuga Lab's Bored Ape Yacht Club NFT project and its various spinoffs.
Yat also warned the industry of the dangers of what happened to music artists when platforms like Spotify are in a position to dicatate the royalties payable to artists.  The net effect is that Spotify with all of its users and billions of streams generates much lower revenues for artists than the much smaller and nascent NFT industry.  This big win for NFT artists has been put in jeopardy by NFT marketplaces such as Blur and OpenSea which have decided to not enforce royalties for NFT artists.  In essence, Blur and OpenSea are stealing content creator royalties to subsidize NFT trading.
In a separate panel discussion during Outer Edge, famous hip hop artist Illa Da Producer who currently serves as the Community and Partnership Lead for Yuga Labs, the parent company of the Bored Ape Yacht Club NFT project and related spinoffs also addressed the issue of NFT artist royalties.  Illa Da Producer admonished OpenSea by stating that OpenSea had an opportunity to put its foot down and take a stand in support and solidarity with content creators, but instead chose to follow Blur's lead and stopped enforcing NFT royalties payable to artists.
In another industry first response by NFT project Legends of Atlantis, OpenSea was added to its blacklist of NFT marketplaces along with Blur during NFT LA.  Their innovative approach to enforcing NFT royalties gained a lot of attention after the article, "Content Creators in Uproar Against Blur and OpenSea" was published.  Starting April 7, 2023 any new listings on OpenSea of Legends of Atlantis or its accompanying collection, Atlantean Parcel Pass NFTs will have its NFT image disabled and replaced with a message to delist from OpenSea and relist on X2Y2 and Rarible which are the featured whitelisted NFT marketplaces which enofrce creator royalties.  In addition, those listing on OpenSea after April 7th without taking corrective actions will also be excluded from future prizes, giveaways, utility, and value created for the Legends of Atlantis and Atlantean Parcel Pass NFT collections.  This decision was not made lightly and only occurred after trying to work with OpenSea developers to reinstate its royalties as before and an unanswered email to the co-founder and CEO of OpenSea, Devin Finzer.
Both X2Y2 and Rarible are taking a strong stance in support of content creators and bucking the trend set by Blur and OpenSea.  Currently, X2Y2 is the third largest NFT marketplace and it is featuring Legends of Atlantis on its homepage.  Rarible has also shown strong support for Legends of Atlantis and has included the NFT project in its new Community Marketplace beta test which allows multiple NFT collections to be featured in one area separate from their general marketplace.  Rarible also quickly verified Legends of Atlantis which is an issue on OpenSea as it moves at a snail's pace to verify projects making it easier for scammers to launch fake collections.  Rarible will also follow-up on March 28, 2023 with additional support for Legends of Atlantis by featuring it as the "Community Marketplace of the Week" along with a Twitter blast to its Followers of over 500K.
With the support of X2Y2 and Rarible, it will be much easier for NFT projects to take a stand against Blur and OpenSea and seek positive changes for the entire nascent NFT industry and not repeat the same historical disadvantages faced by artists.  And Legends of Atlantis is leading the way and providing the example in which artists can be empowered and have a say over their creative efforts.
X2Y2 Legends of Atlantis link
https://x2y2.io/collection/legends-of-atlantis/items
Rarible Legends of Atlantis link